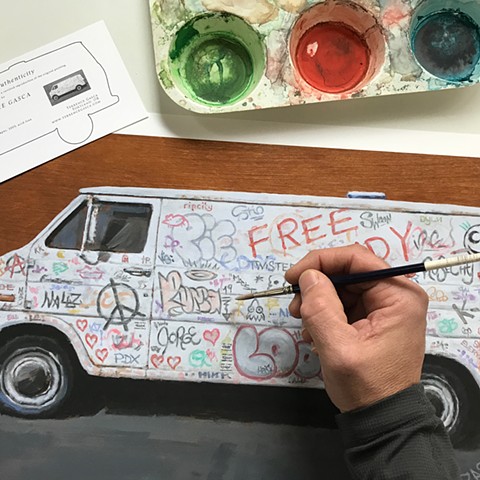 FREE CANDY ARCHIVAL PRINT w/ CUSTOM TAGGING
Gouache Paint on an Archival Pigmented Print, 300 gsm Fine Art Paper, 100% Acid Free
12.7" x 22"
2019
FREE CANDY - ARCHIVAL PRINT w/ CUSTOM TAGGING


Whether for yourself, or giving it as a gift, this newest print is a favorite, and one in which you have the option to customize it!
What?
That's right… have your own custom tagging included! The words are up to you!
Good examples: Children or family nick names, pet names, or a short message, like Go Beavs! or Rose City 'Til I Die! Let's hear your ideas and we'll make it work. Certain length limitations may apply.


SPECIFICATIONS:
This is a high quality Archival Pigmented Print on 300 gsm Fine Art Paper, 100% Acid Free.
This custom print is signed and includes a Certificate of Authenticity.
Custom tagging is done with Gouache Paint.
The print measures 12.7" H x 22" W, image size measures 10.75" x 20.5"
Thank you to Nvision Imaging for helping out with these quality prints.


** If you're interested in purchasing this print with another option outside of this website, I also accept most online/mobile payment methods… Venmo, CashApp, PayPal, ApplePay… you can likely find me under Terrence Gasca. I also take cash, checks, and credit cards. Reach out to me however you choose and we'll make those arrangements. Thank you.
*** Please Note, there is a $10 shipping & handling charge included in your purchase through my website. If you live in the Portland Metro area and would like to pick up your print (rather than pay for shipping), please let me know. PayPal does not give me an option to not charge for shipping & handling, but I'm happy to credit you that amount. Thank you.